Some of you have been following this blog for a few months, some for a few days, and some of you for the entire year it's been up. In all this time I never formally introduced myself, and for good reason. I wanted this blog to be entirely about the science of weight loss and fitness – not a personal blog. I wanted to share information in an easy manner without the clutter of day to day stuff no one really cares about. I carried on this way until a few weeks ago, when I read a blog similar to mine. "This is great…but why should I trust this person? Who ARE they?"
Oh.
So, let me introduce myself and start off the new year with a resolution for my blog: to let you get to know me. This blog will be still about 90% science and articles but you'll get little updates from me here and there about my training, my passions, or maybe just a random personal post.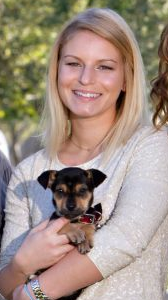 My name is Courtney and I'm a 20-something year old veterinary student. My interests include powerlifting, yoga, blogging, animals, eating and hiking. I started this blog on a more personal platform – Tumblr – because of some issues I had with food. I spent a lot of my young life troubled with food and unable to make peace with my body image issues. Instead of eliminating the problem (the toxic environment I created to continue my bad habits) I faulted myself instead. Tumblr gave me a place to explore this and, eventually, leave these thoughts behind. During this time I also started to research into topics that interested me: was my metabolism forever destroyed by years of yo-yo dieting and fasting? What SHOULD I be eating? How much?
To my surprise I found story after story telling two different sides of every story. I was more confused than ever, which lead me to pull up scientific articles and papers about these issues instead of popular magazines and websites. Here I found the "truth" of fitness, exercise and weight loss – and man did they differ from what I'd been told my whole life! In an attempt to help others receive a more balanced outlook I started to write articles that people my age would identify with. I found great solace in the fact that I didn't need to eat 7 times a day, or that I didn't have to spend one more second on the treadmill. I figured that there were people out there just like me who would benefit from this information.
So, Barbells and Beakers was born.
As you can see, nowhere above does it say "I am a nutritionist, personal trainer, etc." I am a veterinary student. I only offer my unique knowledge of anatomy and physiology and my ability to understand science. I give only my personal experiences and opinions in hopes to help others. I will never create a diet, exercise plan, or recommend any one type of eating to anyone. If anything, you'll hear my most popular saying: "Do what works for you and don't let anyone tell you otherwise."