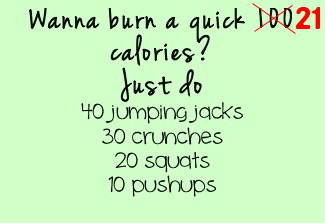 People tend to overestimate the amount of calories they burn. Period.
Ever been to a spin/zumba/fitness class and overheard this: "I just burned 600 calories on the elliptical and now I'm going to burn another 600 in this class!" I have. These same people in my life tend to complain about their inability to lose weight, barely break a sweat during these exercises and/or become frustrated that despite their hours at the gym nothing is budging. I was one of these girls once. I would hop on the elliptical and plug away for an hour then subtract 600 calories from my daily intake, and eat that 600 calories back.
Problem? Machines lie. Yep. I did this exercise above wearing a heart rate monitor and I clocked 21 calories. 21! That's a far cry from 100 calories. This lies the same way that an elliptical says that the girl reading Cosmo without breaking a sweat burns the same amount of calories as the girl going HAM on the machine next to her. There has to be a conspiracy here.
These machines do not know how hard these exercises are for you. They're also automatically set for a 150 pound female. They also can't judge your heart rate. They can't tell that you're a marathon runner and you're cross training on the elliptical, or that you've never so much as run a mile in your entire life. Without knowing your heart rate these machines are, at best, a guestimate.
This is a very common theme. It may not seem like a big deal to overestimate how many calories you burn going to a spin class or just running around the block, but over time it can be. Take me for example: I burn about 342 calories during my spin class, according to my HRM. I've heard an instructor claim, "How was that for a 600 calorie burn!" after a class. What? First of all, there is no way everyone was at the same level of fitness. Second of all, no. And I know for a fact that some people take these words as law and go home and subtract 600 calories from their intake for the day then eat it back. That's almost 300 calories overestimating. 300 calories 3 times a week = 900 calories a week. That's detrimental to weight loss and maintenance.
Machines, websites and people always will overestimate how many calories they burn. Invest in a heart rate monitor or pay attention to how you feel when you exercise if you're tracking calories. If you're not sweating during cardio, if your heart rate is not up, chances are you're not working as hard as the machine thinks you are.